There are some amazing real estate projects coming to the Toronto market in 2014, including some dramatic designs that are being met with grand expectations, and others that are receiving mixed reviews.
Aura Condos at College Park - Canada's Tallest Condo
Among the most exciting projects is the condo development at Yonge and Gerrard called Aura Condos at College Park. This project is by Canderel Stoneridge. When completed later this year, it will be Canada's tallest residential tower. Consisting of 78 storeys, with 985 units and a $17 million penthouse. The structure will be 273 metres tall, with 1,340,000 square feet of space, of which 1,150,000 will be residential and 190,000 of retail space in the building's podium.
It will have underground connections to the Toronto PATH system, including the College Park complex and College subway station. Construction on this project started in 2010.
Here is a shot of the project today:
River City Condos - Phase 3
River City is a project at Eastern Avenue and Saint Lawrence Street in Downtown Toronto, along the Don Valley Parkway by Urban Capital Property Group and Waterfront Toronto. The first two phases of this project included condo apartments and townhouses, with a dark, dramatic look. The third phase, which is in preconstruction, contrasts wildly in appearance and design, with a sleek, white and black, geometrically striking design that has widely differing reviews. Most people will either love it or hate it.
Core Condos
The 24 storey Core Condos project at Shuter and Dalhousie streets is also in pre-construction, but the design is bold and exciting. The project is from Centre Court Developments, and will be offered for sale this year.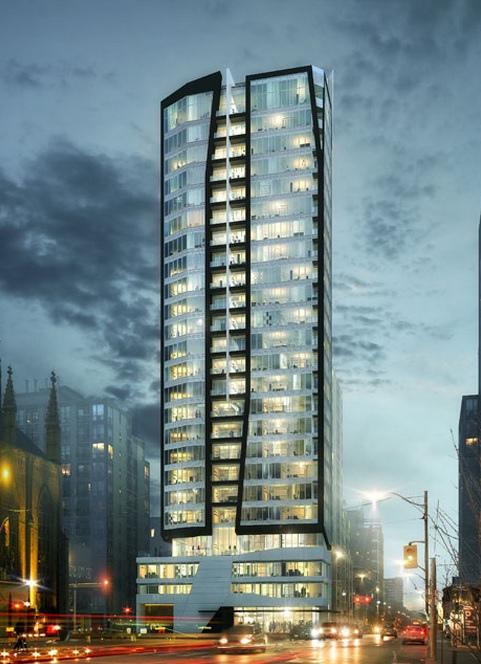 Smart House
This project by Urban Capital Property Group and Malibu Investments Inc. is located at 219 Queen Street West near University, and is also in pre-construction. It is presented as Toronto's first micro condo project with 241 units slated for completion in 2017, with prices starting at 249,900. With units starting at just 289 square feet, it may be starting a new trend for the ultra compact condo apartment market.
What do you think of the above designs? Beautiful or not, let me know. I personally like the diversity of design in setting apart from the typical glass wall designs that have dotted the lakefront in recent years.