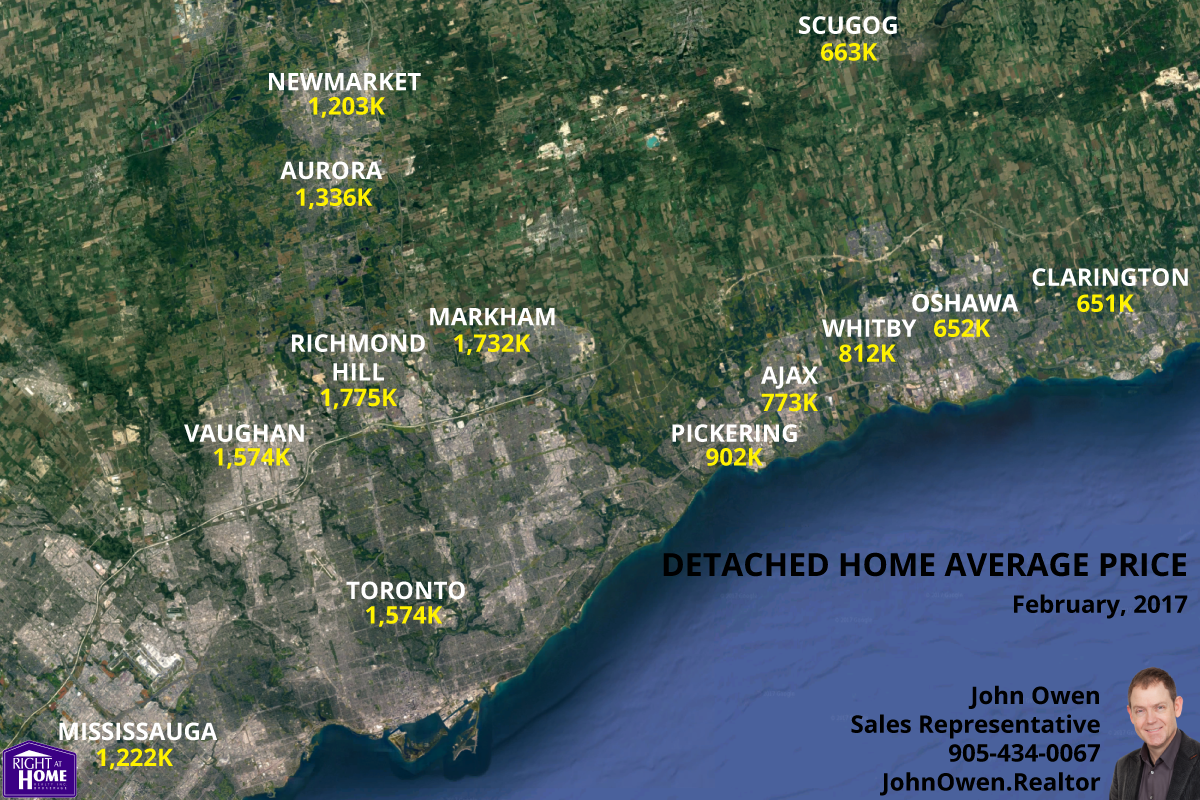 Why is Oshawa Real Estate So Hot?
If you have been following the Oshawa Real Estate market lately, it's no secret that prices are rising at a rapid pace.
Prices in February on average rose 48% from a year earlier. Think about that for a moment - just one year and a 48% increase in prices!
Oshawa is one of Canada's hottest real estate markets, and the surrounding areas are also doing very well compared to not only the GTA, but also the entire country.
Take a look at how prices in the GTA have risen over the past few years, and the reasons for the local surge start to become clear.
Supply of listings in the GTA are at critically low levels, and most of them are selling for over asking. The lowest inventory levels are actually in Durham recently.
In February, there was only 1 month of inventory in the entire GTA. In Oshawa, that figure was just 0.5 months, meaning that without new listings, all the homes for sale in Oshawa would sell in just half a month.
How Distance From Toronto Factors In
The map above shows the average price of a detached home in different GTA communities in February 2017.
All of the areas west of Durham Region show an average price of well over 1 million dollars, with some rapidly approaching 2 million.
Considering proximity to the Toronto core as a defining factor in price, you would expect prices to be highest in central Toronto, and to drop as you get farther away in a bullseye pattern.
In central Toronto, the average detached home was $2.503 million, while in Toronto west, it was $1.130M and in Toronto East $1.049M.
Heading east, you can see that prices are lower as you head farther out. If you look north, however, prices are substantially higher than communities to the east.
The same thing can be seen to the west. Average prices were $1.258M in Halton and $986K in Peel.
Many homebuyers in Durham right now are coming from other parts of the GTA. The value compared to our western neighbours is undeniable, even after recent increases.
Looking Forward
Moving into the spring market, there is no reason to believe that this growth in Oshawa and Durham won't continue to outpace the GTA until our prices start to fall in line with other areas like Newmarket and Burlington.
Oshawa prices won't likely reach the same levels as Toronto, but they may approach levels in other outlying GTA communities, especially in the northern parts of the city.
On the other hand, if and when the market retracts, it will likely have greatest impact in the Toronto core, with a ripple effect outward.
Yes, we have had a rapid rise in prices in the last few years, but there's many good reasons.
Expansion of the 407 and expanded service in the GO transit system have made our area an attractive alternative to areas in the north and west GTA.
As long as supply remains constrained, demand will continue to drive prices higher. Government action on mortgage qualifying and mortgage insurance have had minimal impact thus far.
One thing that has had an impact is the requirement of a 20% down payment for homes over $1 million with most lenders. Many buyers have been forced to seek out homes for less than the magic million dollar mark.
The minimum down payment on a CMHC mortgage-insured home priced at $999,000 is just under 75,000. For the million dollar home, it is 200,000.
The only major looming threat would be a substantial interest rate hike. That would have major effect on buyers as well as those seeking renewals that would find themselves having difficulty qualifying or budgeting the added interest costs.
You might be surprised how much your home is now worth. Contact me to find out. I would be happy to work with you.