Whitby Road Closures for Highway 407 East construction
As construction continues to gear up for the massive 407 East project, road closures will affect traffic in a major way over the next two years. Some major closures are detailed on the map above, with the following details:
Dundas Street – between McQuay Blvd. and Halls Road – January 24, 2014
Cochrane Street – between Columbus Road and Highway 7 – February 4, 2014 to October 30, 2014
Halls Road – between Dundas Street and Rossland Road – Permanent closure on November 27, 2013
Ashburn Road – between Highway 7 and Spencers Road – October 30, 2013 to July, 30 2014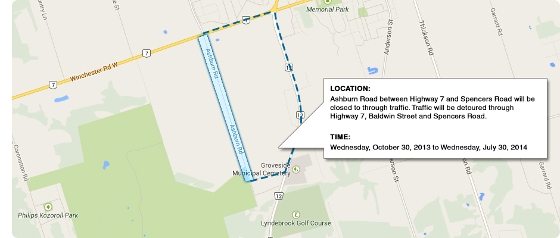 Anderson Street – south of Clair Avenue to north of Saint Thomas Street – October 15, 2013 to July 15, 2014
This won't be the last of them, as the project expands, but each one will result in one less inconvenience to deal with for the project, which ultimately will make congestion and accessibiltiy to the area better for everyone.
The 407E extension has already had a major impact on planning and official plan documents throughout the Durham Region, with a mixture of Residential, Commercial and Industrial area designations along the highway's path. With the northern parts of Ajax, Whitby, Oshawa and Clarington being difficult to access with the lengthy number of limited speed roadways, development in these areas was challenging up to this point.
Upon completion of the first phase of the project in late 2015, there will be immediate and noticeable benefits for everyone in the area, not just users of the highway. With drive times being sharply reduced, the area opens up to more overall development, with an added benefit of reducing congestion on existing arterial roads.
This has already had a positvie impact on property values, though this trend may well expand into areas further north and east, including Scugog and Port Perry. Keep an eye on my website for further developments, and contact me if you would like to discuss your real estate needs in this exciting area.