Last update: January 4, 2023
Peterborough region's real estate market displayed more downward pressure on sale prices in the face of the recent interest rate hikes combined with a slowdown in sales volume - even as inventory levels dropped off from summer levels.
Selling prices had rebounded several times after recent declines, though have fallen to new lows for the year.
Take a look at the following chart, which shows detached home prices for the entire Peterborough district:
Since reaching an all-time high in February, prices have eased considerably, giving buyers more options.
Prices had been rising since last autumn before this year's setback, which is largely attributable to increased mortgage rates combined with higher listing inventory.
The following chart shows sale prices for all residential property types:
Sales volume for the Peterborough region has dropped to a year low, after reaching a peak in March. The decrease in volume has been paired with an increase in new listings, helping prices to decline.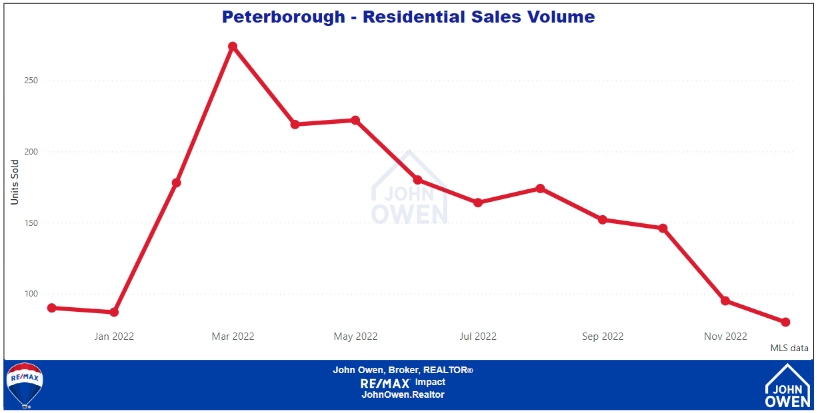 Another common benchmark is called SPLP or Selling Price to List Price. It measures the sale price of a property in relation to its listed price.
As you can see in the following chart, properties have gone from selling at about 10% above list price at this time last year to about 8% below list price in December, with the rate also easing along with prices from February.
This is largely due to a shift in pricing strategy on many listings. When inventory was scarce, most homes were listed at a price lower than expectations, with offers held until a set date and multiple offers in most situations. Now, with more listings to choose from, buyers are able to choose which listings they place offers on, and bidding wars are less common. More listings are seeing this pricing strategy unsuccessful, and are cancelling the listing after not getting the price they wanted, then re-listing with a higher price and negotiating to a sale price more in-line with the revised list price. Hence, we are seeing the sale price to list price ratio below list price, on average.
The Peterborough market had been in a strong seller's market for some time, indicating that market conditions heavily favoured sellers over buyers.
The following chart shows months of inventory (MOI), which is the amount of time it would take for listings to sell out if no new listings were added.
A seller's market is when MOI is below 5. A balanced market is between 5 and 7, and a buyer's market is over 7 MOI.
The lowest point in the past year was in December when this figure was well below 1.0 for the region. It now sits at about 1.5 - clearly not as difficult for buyers as it was at the end of 2021, but still well below a buyer's market.
The following chart shows active listings (how many homes are for sale) in the Peterborough region.
The number of active listings reached a low point for the past year in December. They have jumped since then to a new high for the past year (now about 400) - in August of 2015 they were 1028 - in 2011 they were 1258.
If you are considering selling your property, now is still a good time, given the inventory shortage, though not nearly as good as this past winter.
Should you be looking to buy, it can still be competitive. Multiple offer situations are common at in-demand price ranges, so it pays to be well prepared. Speak with your lender to get a pre-approval, and work with an experienced Realtor to research listings and review recent sales of similar properties.
If you are interested in information on a specific area, please reach out to me anytime!
John Owen, Broker
RE/MAX Impact Realty, Brokerage
(905) 240-6777
Johnowen@remax.net
---
Market Reports - More Regions