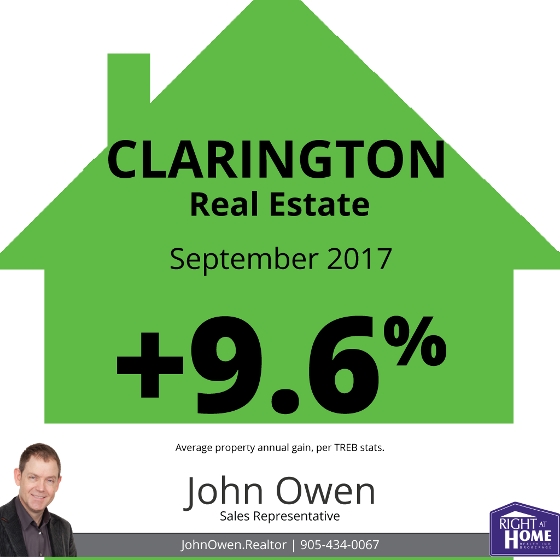 Clarington's real estate market has cooled off substantially since the hottest spring market in many years although prices jumped an average of 9.6% over September of last year.

The Toronto Real Estate Board's (TREB) latest market stats put the average property selling at $535,765 - up from last year's 488,725 - but well off April when the average was at $638,252.
This is great news for buyers, as they have an opportunity to get in at prices well off their peak. As well, with a much higher level of inventory to choose from, they won't be faced with competing with other buyers nearly as often as was the case earlier in the year.
As for sellers, they shouldn't be expecting to get prices that nearby homes may have fetched in the spring (at least for the time being), and they may also need to be prepared to more work preparing their home in a competitive market. Homes are spending more time on the market now, and buyers won't be forced to accept minor deficiencies like they would have under a bidding war.
Of course, that pendulum swing makes things more attractive for buyers that have been frustrated by the bidding madness, or that have been sitting on the sidelines waiting for things to calm down. The fall is looking very good for buyers now that inventories are building up and prices are stabilizing.

The average selling price of homes in the GTA this September was $775,546. This represents a 5.8% increase over 2016. Sales volume was down 30.3% from last year.
Active listings also increased - by 69%, which shows that inventory levels are recovering strongly. Compared to previous periods, this is good news for buyers with the supply starting to catch up to demand.
The MLS Home Price Index helps to normalize the statistics, by adjusting sales statistics to represent typical homes within MLS areas. When using these numbers, Clarington showed a composite annual gain of 7.58%, compared to the TREB average of 12.22%.
Inventory levels are still somewhat low with 1.4 months of inventory on hand across the board. This means that a current sales levels, all of the property would be bought up in the GTA in 1.4 months (if no new listings were added). In Durham there are 1.3 months inventory in the area. In Clarington, the figure is 1.2 months inventory.
The average listing in Clarington spent 23 days on the market. The TREB average was 24 days.
The average listing sold for 98% of asking, demonstrating that demand is still strong, and an indication of multiple offers on many listings, though not as many as earlier this year.
If you are interested in seeing values for an area not shown or are interested in other figures, please comment below or send me an email - John@JohnOwen.Realtor As always, give me a call anytime if you would like to discuss further without any obligation.
---
Older Reports
Member, Canadian Real Estate Association (CREA), Ontario Real Estate Association (OREA), Toronto Real Estate Board (TREB).